An oasis of culture: Forget sun and sand, Abu Dhabi is all about fine food and fantastic art
Abu Dhabi wants to rebrand itself as the Gulf's capital for cuisine and culture The Louvre Abu Dhabi art gallery has recently opened at a cost of £3billion It charts the history of art across humanity and includes painting by da Vinci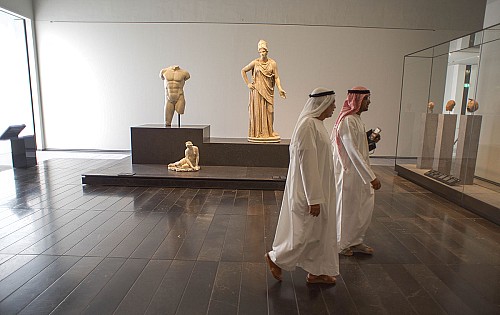 Abu Dhabi has been busy rebranding itself and now wants to be known as the Gulf's capital for culture and cuisine.
As part of this, £3billion has been spent on creating the world's most spectacular new art gallery. The Louvre Abu Dhabi, designed by the French architect Jean Nouvel, has opened on Saadiyat Island, with art critics drooling with pleasure at its contents and physical beauty.
The aluminium and stainless steel dome - 650ft wide and open on all sides - is supported by four concealed piers and so appears to hover above the desert like a lattice flying saucer. It is a dramatic architectural statement and no doubt will become as recognisable a symbol of this wealthy emirate as the Burj al Arab is of neighbouring Dubai.
I spent several hours wandering through this Louvre in the desert and emerged from its cool confines thrilled by what I have seen and impressed with the organisation of the museum.
It is arranged chronologically as the story of humanity's art and is spread across a series of 20 galleries. It is, according to His Excellency Saif Ghobash, of the Abu Dhabi Tourism and Culture Authority, "about universality, about the evolution of art".
So, you start with an 8,000-year-old two-headed figure from Jordan, then the ancient Egyptian sarcophagus of Princess Henuttawy from 950 BC, working your way through 8th Century gold adornments from Iranian Azerbaijan, and then through Middle Eastern treasures, to great European Renaissance works. Then it's on to Picasso, Van Gogh, Mondrian, Cy Twombly and Ai Wei Wei, along with other contemporary stars.
Not surprisingly, there have been minor journalistic flutters around the presence of Christian religious works such as Bellini's Virgin And Child and nude sculptures in a Muslim country that remains essentially very conservative.
These are, however, flutters that His Excellency Ghobash dismisses out of hand. In fact, he says he sees the Louvre as building "a creative class and attracting a creative class, something you can only do if you have a more tolerant, more progressive people living here".
He says Abu Dhabi is planning for "the day the last barrel of oil is pumped. We are striving to become one of the world's cultural capitals".
To that end Saadiyat Island, which is already home to a branch of New York University (with its own art gallery), is being earmarked as the emirate's cultural hub with plans to build a National Museum, designed by Lord Foster, a new Guggenheim Museum designed by Frank Gehry, and a maritime museum designed by the Japanese modernist Tadao Ando.
Whether travellers will flock to Abu Dhabi to look at Leonardo da Vinci's mesmerising Belle Ferroniere or David's dramatic Napoleon Crossing The Alps or Picasso's Bust Of A Woman is open to question.
Tourism numbers are reportedly growing at more than ten per cent a year, and next year almost five million visitors are expected. However, most go for the winter sunshine, the combed white-sand beaches and the luxurious hotels that for much of the year offer very competitive prices. That more sybaritic side of Abu Dhabi is on offer on the island next to Saadiyat.
Yas Island is home to tourist playgrounds such as Waterworld, Ferrari World, the Du Arena - which has hosted Jay Z, Paul McCartney, Calvin Harris and Mumford & Sons - and the Yas Marina Formula 1 Grand Prix circuit, the venue today for the 2017 season's last race.
Having spent the morning in the cool cerebral retreat that is the Louvre, I crossed from Saadiyat to Yas to attend the Abu Dhabi Taste Festival, a raucous annual open-air food, drink and music carnival that includes concerts by the likes of former Spandau Ballet vocalist Tony Hadley. On the evening of my visit, it featured a cook-off to decide Etihad Airways' Taste The World champion. The Abu Dhabi airline had flown in 12 chefs from across the world, regional winners of domestic competitions, to contest the big prize. Among the favourites was Dean Parker, head chef at London's The Manor restaurant. However, much to the disappointment of the British partygoers, the Michelin-star chef Kotaro Noda, from Rome's Bistro64, took the crown.
Etihad Airways has, since it launched in 2003, marketed itself as the gastronome's airline and even in these more austere times - it is being forced to cut operating costs by 30 per cent - boasts an in-flight chef for First Class passengers on all long-haul flights. (Even in Economy, the food served is superior to most other airlines' fare.)
As final affirmation of the all-round excellence of the emirate's culinary offerings, on my last day I had lunch at Jumeirah Etihad Towers' Japanese restaurant Tori No Su and then dinner at the hotel's Ray"s Grill, the atmospheric steakhouse on the 63rd floor overlooking the waterfront.
The food at both was superb, with chef Takashi Ando's sushi and sashimi the best I've had in years.
There are seven restaurants in this luxury property and both Tori No Su and Ray's are bafflingly empty. Were these London restaurants, one would struggle to get a table.
As is the case with the new Louvre, British travellers are not going to fly to Abu Dhabi for the cuisine. However, if they are coming anyway for the winter sunshine, they're in for a treat on both counts.