Culture, coffee and fine cuisine: Dublin is now the heart of high style - but don't worry, you can still get a great pint of Guinness
New film Sing Street, set in 80s Dublin - what was a bleak city landscape Today it's cosmopolitan with a serious culinary centre and culture spots Stop for Guinness at one of its pubs - it tastes better than anywhere else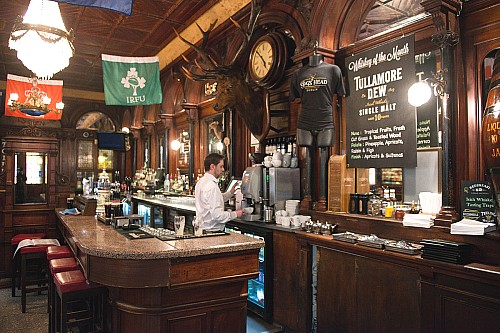 The premiere of the new film Sing Street has just finished and as the credits roll at the Dublin Film Festival, the audience bursts into spontaneous applause. Ironically, what looks like being the feelgood film of the summer is set at a bleak time in this lovely city's history.
The backdrop of Dublin in the mid-1980s - an austere bleak city landscape riven with sectarianism, church-controlled education and cultural introversion - makes one realise how far it has come.
Dublin today is very different. It is a culturally diverse, cosmopolitan city with two feet planted firmly in the 21st Century. It is Europe's IT capital, home to Google, Facebook, and PayPal; it is becoming a serious culinary centre; and there are cranes all over the skyline, so the future looks bright.
The difference is dramatic, as Sing Street director John Carney tells me: "Growing up in Dublin in the 1980... it felt like the 1950s. Architecturally, emotionally, aesthetically, it was way behind the UK."
One of the underlying themes of the film is that if you have dreams of making it as an artist, you have to leave Ireland.
But today the city is a well-spring for writers, musicians, playwrights, actors and directors, a cauldron that, like Nashville, has combined high art with high tech. All of which means there is a ready clientele for the new designer restaurants and cafes.
For the past few years Dublin has been clawing its way out of recession. As an act of affirmation, I am taken on a foodie tour by one of the new breed of enthusiastic immigrants, Frenchwoman Ketty Elizabeth.
She arrived from Paris intending to spend six months here, fell in love with a Dubliner, and 11 years later has established herself as a restaurant critic and tour guide.
Our first stop is Vice, a coffee bar north of the River Liffey, where we taste several interesting concoctions, the highlight of which is an Irish coffee using locally distilled Teeling Small Batch Irish whiskey. Irish coffees will never taste the same after this.
Vice's owner says that in the Celtic Tiger days, when the Irish Republic went mad on borrowed money, everyone was treating themselves to new cars and houses, "but now they're being a little more cautious and spending their money on good food, cheeses and coffee".
The next two stops confirm this. Brother Hubbard was started by two Dubliners who, like many others during the recession, fled abroad and, in their case, learned their trade in Australia.
Brother Hubbard is a cafe, restaurant and wine bar in Capel Street, a stretch of north Dublin previously known for its sex shops.
The sandwiches here win awards but everything else - the salads with Middle Eastern flavours and the eggs menemen with spinach and peppers - is as good, and more evidence of Dublin's rise as a nouveau gastro centre.
A few doors down on Capel Street is Camerino, a cake shop and bakery opened by Canadian-Italian Caryna Camerino in 2014.
She had been working in human resources during the recession, and at the same time baked as a hobby and supplied a market stall at weekends.
Finally, she says, she grew tired of firing people and, with local cafe owners increasingly asking for her cakes, she took the plunge and set up her own shop.
Today Camerino serves up luscious cakes, lovely scones and locally made jams. It employs eight staff and there are customers queuing up outside.
When Ketty first arrived in Dublin, she says the food was terrible. "Lots of fast-food and fine dining places where the food wasn't that fine. There was nothing in between.
"Now there is fresh, creative food for all tastes. It's a revolution."
It is only a small part of Dublin's revival. Its more traditional virtues of creative culture and literary virtuosity remain central to the city's lifeblood.
"This is a city of words," says Brian Horgan, of the Abbey Theatre, that fine institution founded by Augusta, Lady Gregory and William Butler Yeats at the turn of the 20th Century and which over that century premiered works by J. M. Synge, Sean O'Casey, Hugh Leonard and Brian Friel.
To prove the point, I attend a performance of Cyprus Avenue, David Ireland's searing new play about the corrosive sectarian divisions that still lie in some Irishmen's minds.
It is a gripping piece and in the tradition of Synge and company, and provides further evidence that Dublin has emerged from the dark, divisive days of the 1980s.
But for all the high-tech swirls, barista outlets and cocktail mixologists, what makes Dublin such a compelling modern city is the traditional reference points.
Apart from the theatres and art galleries, there are the streets of impeccable Georgian architecture, Victorian pubs that have barely changed in a century, and the hospitality and good companionship of locals - the craic, to invoke an overused word.
Go for a pint of Guinness (and it really does taste better here) and try stopping a Dubliner from talking.
There are pubs on every corner of the city, many of them underlit Victorian cubby holes that resonate with history, contemplation and conversation. You get the feeling the city has been built on conversations in the pub.
Three I would recommend are Doheny & Nesbitt, on Baggot Street Lower, a dark mahogany gem that claims to be the most photographed pub in the city; The Swan, owned by the great Irish rugby prop forward Sean Lynch, and now run by his son Ronan; and The Stag's Head, the gorgeous 18th Century pub in Dame Court that has featured in many a Hollywood film yet remains refreshingly unaffected - it still has the feel of a grounded, no-nonsense local.
Traditions of hospitality also extend to the hotels. I stayed at two of the finest - The Westbury, just off Grafton Street, and The Merrion, built around four Georgian houses.
The Merrion is grander but what I liked about the Westbury was the warmth, generosity and heartfelt Irish hospitality. At its restaurant, Balfes, I had a stunning meal that reflects the new lively cuisine.
The phoenix has risen.