How Billionaire Analjit Singh is Transforming South Africa`s Franschhoek Region
A trip to the popular weekend escape offered a foreign-born billionaire a surprising second career.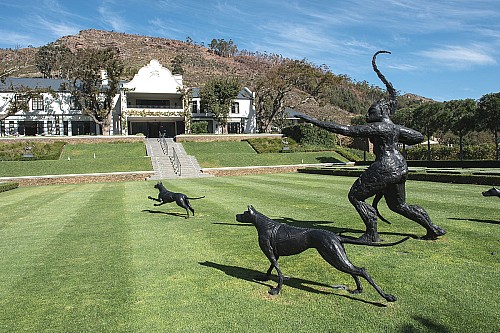 Prior to 2010, Analjit Singh had never set foot on the African continent. At home in Delhi, Singh was well established-a healthcare titan honored with India`s prestigious Golden Peacock award for leadership-but when he first visited South Africa`s Franschhoek region, a mountainous area an hour`s drive from Cape Town, he was just another tourist. It was a visit that would change his life. "I fell in love with Franschhoek the moment I saw it. I felt a gripping feeling of belonging," he says.
Considering that reaction, it`s no wonder that, six years later, Singh has become a local institution, thanks to his partnership in an award-winning Swartland winery and his three luxury properties, as well as a microbrewery and a soon-to-open Indian restaurant. Of course, he`s not the first wealthy foreigner to be beguiled by the area-both Richard Branson and Laurence Graff have built luxury resorts here-but Singh`s financial commitment has been stratospheric compared with others`, as evidenced by the recent opening of his lavish Leeu Estate.
The centerpiece of Singh`s hospitality empire, the 168-acre property opened in June on the slopes of the Dassenberg mountain range. Its main attraction is a restored 19th-century manor house with six of the estate`s 17 guestrooms, gardens stocked with statement artworks, including Angus Taylor`s bronze and granite sculpture Reflective Resonance, and a winery and tasting room overseen by Singh`s new viticultural partners, the South African winemakers Andrea and Chris Mullineux.
Such ambitious offerings stand out even in a region that has in recent years become Cape Town`s go-to luxury weekend retreat. Indeed, the area, a destination for Cape cuisine and world class wines, has some of the best hotels in South Africa and has attracted such visitors as Elton John, Bono, and Charlize Theron. But it wasn`t always this way. When the valley was first settled, in the 17th century, it bore the unfashionable sobriquet Olifantshoek ("Elephants Corner") because of the preponderance of pachyderms in the area. The Afrikaners of neighboring Stellenbosch regarded Olifantshoek as inferior to their own town and were decidedly dismissive.
And so the situation remained, until the hospitality revolution that came with South Africa`s democratization. Led by Le Quartier Fran鏰is, a 21-room auberge that Singh also owns, Franschhoek found its way onto the international travel map, thanks in no small part to that hunch Singh had when he first visited. "When I arrived in Franschhoek," he says, "I instantly and instinctively knew this was it!"