Manta rays and mermaids along Australia`s Ningaloo Reef
It is the second dive on the second day aboard the Shore Thing that does it for me. A small group of us are snorkelling along Ningaloo Reef when we spot an enormous manta ray circling beneath us. Led by the catamaran`s manta "mermaid", Hayley Mitchelmore , we dive 33ft and float alongside this beautiful creature. The manta is not only aware of our presence, but also seems to become curious, circling us several times.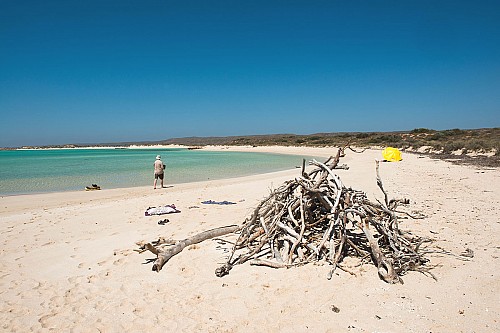 It is an extraordinary moment, the first time I have had a powerful sense of connection with a fish. Mantas are, I later learn from Mitchelmore, most intelligent creatures, with the largest brain-to-body ratio of any marine fish; by comparison the 30ft-long, nine-ton whale shark, the largest extant fish species, has a brain the size of a golf ball. The substantial population of mantas in these waters off Coral Bay are habituated to people and apparently seek out human interaction, which is something this one certainly does. We spend 45 minutes floating, diving and swimming alongside it before it surges onward to a distant coral garden.
This manta dive was the first of a number of memorable excursions off Shore Thing, a shallow-draft 51ft catamaran that operates from Coral Bay and offers bespoke scuba and snorkelling trips along Ningaloo Reef in three-, five- and nine-night packages. The boat has four double cabins and can take a maximum of 10 guests, so it is often chartered by extended families and groups of friends. Its owner, Luke Riley, a former investment banker who fled the big cities for this remote edge of Western Australia, calls the trips "marine safaris, because when you put your head in the water you really are entering another wilderness".
Over my three-day trip I was able to explore that other wilderness forensically, swimming regularly with turtles and snorkelling through coral gardens that looked as if they had been created by alien species working with psychedelic colour palettes. Floating with the current on drift dives, I passed clownfish, raccoon butterflyfish, blue-spotted ribbontail rays, spangled emperors, lionfish, blue fusiliers...
The interaction between species was as fascinating as their dramatic visual beauty and at a so-called shark-cleaning station beside a reef known as Asho`s Gap we hovered for a good 20 minutes above a procession of blacktip reef sharks that came to be "groomed" - having irritating parasites cleaned from their teeth and gills by swarms of cleaner wrasse. Once serviced, they moved on and made way for the others. It was a bit like a city car wash on a busy Saturday.
As Riley pointed out, the 186-mile-long Ningaloo coral reef is among the best in the world and, because it is here that the cool ocean current from the south meets a warmer current from the north, the reef is able to support a unique mix of tropical and subtropical species.
"I fell in love with the place as soon as I arrived," he said. "What is also unique is that the reef is just off the shore, so easy for beginners and inexperienced snorkellers, but also rewarding for those who`ve dived a lot."
As one would expect, since Ningaloo Marine Park was declared a Unesco World Heritage Site in 2011 there has been an increase in tourism here. However, the numbers are not enormous and this vast, remote part of Western Australia is unlikely ever to be blighted by mass tourism. With the exception of the Namib Desert, I have never been anywhere that has made me as aware of a vastness of landscape and the insignificance of Homo sapiens.
It is this existence at the fringes of modern society that has drawn people such as Luke Riley to the region.
There are two flights a day to Learmonth Airport from Perth, and after that it is a one-and-a-half-hour drive from the airport to Sal Salis, the luxury tented camp on the beach in the northern part of Ningaloo that was my first stop, and then a three-hour drive south to Coral Bay harbour. The small town of Exmouth (population 2,200) lies in between, but along those endless two-lane blacktops the only living creatures one encounters are stray kangaroos. It is the very definition of The Big Empty.
The northern end of Ningaloo Reef lies off the shore of the Cape Range National Park, an ecosystem containing an extensive cave network that hosts various stygofauna. However, the main draw here is the fringing reef. From your tent at Sal Salis, located on dunes within the park, you merely have to cross the pristine white beach and fall into the aquamarine waters with your flippers and goggles on. The coral and the marine wildlife are right there.
Beyond the reefs are the megafauna that are among the region`s great draws. You can swim with whale sharks during the season (April to July), and from this year for the first time (August to October) swimming with humpback whales is also offered. These activities are carefully controlled, with a handful of licensed operators taking parties of 20 out on reconfigured crayfishing boats and, with the help of spotter planes and spotter swimmers (the whale-shark spotters known as the "mermaids"), 10 snorkellers at a time are dropped into the path of individual whale sharks.
Most of the people living up here have been, or are still, involved in the marine world. The young women working at the Novotel Ningaloo Resort in Exmouth, for example, first came here to dive and explore the reefs; the waitresses at Whalers Restaurant have all been whale-shark mermaids, and even the owner`s wife used to be the skipper of a whale-shark boat.
A word about Whalers, which in my opinion is the best rural seafood restaurant in the country. Owner-chef Paul Minniear trained in New Orleans, was head chef at Mike`s on the Avenue at the Lafayette Hotel, and has thus brought his Southern Creole gastronomic skills to the fresh seafood that is ubiquitous here. It was the culinary surprise of my trip.
If the three days of bespoke snorkelling on board the Shore Thing were the highlight of my week in Ningaloo, my stays at Sal Salis and in Exmouth and the days spent driving across this great open landscape were what made this an unusually fascinating trip. Many of the inhabitants of Exmouth, Coral Bay and the resorts are from foreign countries - Paul Minniear says that the only Australian working at Whalers is the dishwasher. They are drawn here by the extraordinary marine landscape, the ocean wildlife and by the remoteness of the North West Cape.
Ironically, just as my circadian rhythms had finally adjusted to the slow pulse of this weird and wonderful place, it was time to return to 21st-century urban life. So I left wanting more.
Sail Ningaloo (0061 458 822 895) , charges from AU$1,700/£840 for a three-night, four-day excursion on Shore Thing and from £2,225 for a nine-night, 10-day excursion. Included in the price are all meals, snorkelling equipment and trips. Sal Salis (0061 8 9949 1776) charges £370 per person per night and this year will expand the camp from nine to 16 tents. Day-long whale-shark cruises from camp cost £200.