Revelling in the majesty of William's Africa: The stunning swathe of Kenya that's moulded our future Monarch
The Mail on Sunday's Graham Boynton explored The Northern Rangelands in the remote reaches of Kenya The Duke of Cambridge first visited the Craig-family owned Lewa Safari in 1997, and forged a lasting bond Graham also stayed at the lavish Loisaba Tented Camp, owned by the same safari group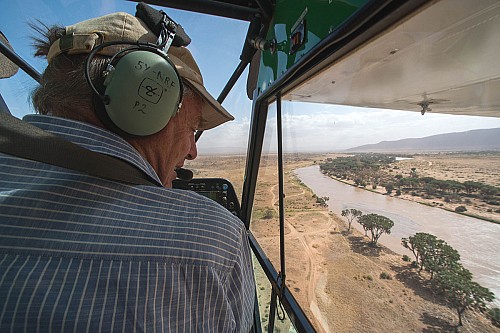 The Northern Rangelands are a great swathe of Kenya which spreads from Lewa Downs and Mount Kenya north to the Somali border. In former days, much of this was bandit country, known to one and all as the Badlands.
I am flying north from Lewa with Ian Craig in his tiny Piper Super Cub. We are buffeted by strong winds as we circle over a remote safari camp called Saruni, but Craig is known as a superb pilot, so the sudden twitches and bumps as we land on the camp's dirt landing strip do not concern me.
It was in these remote northern outreaches that the Duke of Cambridge learned to love African wildlife. He first came to the Craig family ranch in 1997 before Princess Diana's death and immediately bonded with the Craigs, who came to be seen as the Prince's second family.
He frequently visited after his mother's death too, often with Prince Harry in tow.
During his gap year, William spent some months at Lewa, and even dated Craig's daughter Jecca.
Craig, who was awarded an OBE this year, says William recognised "the conservation efforts we were involved in and understood what the issues were. We established a lifelong friendship from there".
In fact, it was William's on-the-ground knowledge of rhino and elephant poaching - which for decades has blighted Kenya and neighbouring countries - that persuaded him to become Royal patron of Tusk Trust, a wildlife charity that he uses as a platform for his international conservation campaigns.
William was also the driving force behind the Elephant Protection Initiative, an international campaign launched in 2014 to put elephant ivory beyond commercial use. However, his attachment to this remote part of Kenya has been much more profound than pure conservation, and his ties with the Craig family run deep and personal.
In 2008 he flew here to attend the wedding of Craig's son Batian, and later attended Jecca's own big day. And in 2010 William proposed to Kate at Rutundu, a remote lodge in the shadow of Mount Kenya, just a short helicopter ride from Lewa.
By the time Craig and I return from our flying excursions in the north to the Lewa Safari Lodge, where I'm staying for two nights, the sun is setting and it is time to settle down over gin and tonics on the veranda and to catch up on local developments.
Craig is delighted with Lewa's progress since I was last here more than a decade ago. "You must notice a big difference," he beams.
The 62,000-acre Lewa conservancy has indeed gone from strength to strength since Craig founded it in the mid-1980s as a 5,000-acre rhino sanctuary. It is now a World Heritage Site and there is no underestimating William's role in its development and international recognition. According to Craig, "William has been a massive conduit between conservation here on the ground and the Western leaders he is interacting with on a daily basis".
The Lewa Safari Camp, where William and Kate stayed on their engagement trip, has recently been taken over by the Elewana Collection, one of the largest groups of boutique safari lodges in East Africa. The company boasts 16 properties in Tanzania and Kenya.
The 15 tented rooms at Lewa are spread across the bush so you get a personal relationship with the wilderness. The site is run with calm efficiency by a delightful Zimbabwean couple, Sacha and Tamlyn Toronyi.
The following morning I take a game drive across the open plain and within ten minutes come across a black rhino and her calf. In many parts of Africa you'll no longer see black rhino - their numbers have been devastated by decades of poaching.
Lewa has some 60 black and 71 white rhinos, and they are protected by 150 armed guards - a highly trained, quick-response paramilitary force that patrols Lewa and the surrounding areas.
As the rhinos head towards the distant hills, a small herd of Grevy's zebras come into view.
The number of these animals is also dwindling before our eyes - there are 300 Grevy's at Lewa and only 2,000 on the whole continent. One thing a drive through Lewa teaches you is that this conservancy is providing a refuge for many of Africa's fast-disappearing wild animals.
The next morning I take a Cessna 182 and fly west to Loisaba Tented Camp, another Elewana property. It was rebuilt after a fire last year all but destroyed the old camp. Like Lewa, Loisaba is on privately owned land where the local communities benefit from tourism and thus form something of a human shield around the animal populations.
As we land, I notice a crumpled Cessna 172 on the side of the runway. Just two days before, it seems the pilot came in to land too quickly, the Cessna bounced hard on the runway, the nose wheel broke and the plane flipped over.
None of the three passengers was badly hurt but they were shaken enough to decide to leave the camp the next day. That said, light-aircraft incidents in Kenya are few and far between, and flying is a superb way of getting around this vast landscape.
I am soon met by Tom Sylvester, Loisaba's chief executive. When he arrived in the area 25 years ago, tourism was non-existent. Today Loisaba Tented Camp - an ultra-modern, 24-bed resort - sits on 56,000 acres originally owned by an Italian count. It stands high on the edge of a plateau with a view of Mount Kenya.
On my last night at Loisaba, I sleep under the stars in one of the camp's eight Star Beds. Although sleeping under the stars is now common in African camps, Sylvester insists the concept was invented here.
That night, I lie in my four-poster listening to the sounds of the African night - the whooping of the hyenas, the throaty roars of the resident lion pride males, and the low rumblings of elephants as they make their way across the plains.
And I stare out at the inky darkness of space and behold the infinite galaxies with a sense of awe and humility.
It is a night like this that makes me understand why Prince William has been so seduced by this marvellous natural habitat - and why he has become a most ardent protector of the African wilderness.