Shanghai finally salutes its past
Bulldozed in the 1920s and constantly rebuilt 'so history doesn't breathe through', Shanghai has always looked forward. But in exploring its brash modernity, Graham Boynton finds a new spirit of conservation.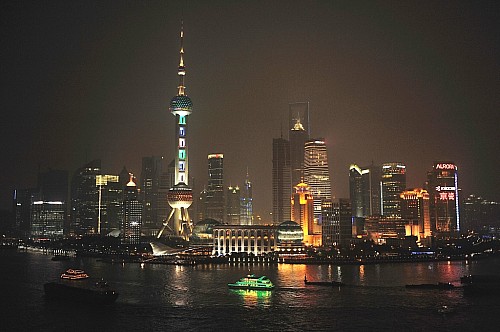 Taobao Market is a four-storey warren of stalls, shops and transient vendors, the largest fake-designer-goods outlet in Shanghai. Dolce & Gabbana, Piaget, Chloé, Dior, Armani, Tag Hauer… they're all here. They should not be here, for in the lead-up to the World Expo (which began in May and ended last month), the international luxury brand manufacturers put pressure on the Chinese authorities to clamp down on the fake markets. Their response was more nudge, wink than clamp-down and although the gigantic outdoor fake market in Xiangyang Road was closed some time ago, this one in Nanjing Road West immediately sprang up in its place.
There are a hundred reasons to steer clear of this labyrinth. We are constantly being warned that the multi-trillion-dollar international fakes industry is financing suicide attacks by al-Qaeda and that counterfeit Gucci handbags are being made in Chinese sweatshops by 11-year-olds who have been pressganged into work. Yet, at the same time, these goods are bought and sold all day long over the internet – and during the week I spent in Shanghai, Time Out magazine featured Taobao in its cover story: a guide to the city's best markets.
So, on a cool autumn evening I find myself wading through a forest of outstretched arms, hands beckoning me towards their shelves of cashmere jumpers and scarves, big-name branded sports goods, handbags, leather jackets, perfumes and jewellery. I know it's all a game, that the "cashmere" item you are allowed to run your fingers across won't be anything like the one you take back with you; that the fake watch will probably stop ticking around the time you board your flight home; and that the "handmade in Italy" designer bag will come apart at the seams the moment you actually put anything meaningful in it. But haggling is fun, and trying to catch out one of these operators performing a bait-and-switch manoeuvre is sheer entertainment.
For these reasons, the cagey-looking bloke outside one of the handbag shops catches my eye. He approaches with the Nanjing Road version of a pimp roll, stage-whispering one word: "Watches!" Well, we are not really looking for watches, thank you. But he is just getting started. In a combination of broken English and sign language he indicates that his merchandise is so hot that he has had to hide it in a back room behind the handbag outlet, thereby adding a touch of melodrama to the haggling. Within moments he has led me and two female companions into a dimly-lit room behind the silk curtain. "Two thousand RMB – Patek Philippe." That's £200, so with polite smiles we turn to leave. However, the dance has only just begun and will run for a good 10 minutes as we try to extricate ourselves. "One thousand RMB! OK, five hundred. No? Two hundred." Finally, at the point where we have agreed to pay £11 for the Patek Philippe and £10 for the Rolex, we plead poverty and escape to the "pashmina" shop, where shelves of acrylic fakes are waiting to be haggled over.
This is my sixth visit to Shanghai – I started coming here in the early 1980s – and every time another aspect of the city reveals itself. Of course, there is nothing new or unusual about a fake market in a Far Eastern city. What is extraordinary is that Taobao flourishes despite international censure by those very brands that are essential to China's consumer-led future – proof that cautious pragmatism is less of a force here than the entrepreneurial DNA that has run through this city since its inception.
The morning after my Taobao visit, I find myself a few miles across the city on the Bund (the famous street that runs along the west bank of the Huangpu River), in the company of Peter Hibbard, architectural historian and president of the Royal Asiatic Society in Shanghai. Here, the real designer shops – housed in buildings that were once the banks and great trading houses of Shanghai's pre-Communist boom times – are all but empty. They are, according to Hibbard, "rather like luxury-brand museums", with beautiful displays of Rolex, Louis Vuitton, Cartier and the rest, but no shoppers inside buying anything. Just as there are no local Chinese at Taobao Market buying fakes, so there are none in the legitimate stores buying the real thing.
This may appear strange, for we are told that wealthy Chinese are buying real designer goods by the truckload. According to a Merrill Lynch study last year, the Chinese are now the third-largest buyers of Italian luxury goods in the world, behind the Japanese and the Americans. It is estimated that, by 2014, the Chinese will account for 30 per cent of the worldwide luxury goods market.
Yet the phenomenon seen on the Bund isn't strange, as I discover a few days later in Hong Kong, on my way out of Shanghai. There are long queues of mainland Chinese outside both the Louis Vuitton and Gucci shops in Canton Road, where the prices are far more competitive than in the luxury-goods museums on the Bund. The new wealthy Chinese may have money to throw around, but they remain shrewd consumers.
However, it is my walking tour of the Bund with Peter Hibbard that provides a deeper understanding of Shanghai past and present. He began visiting Shanghai 25 years ago and moved here permanently in 2001, marrying a Shanghainese woman and living in the heart of the city. This year he was made an MBE for his services to the city's conservation and heritage. The first thing I learn from Hibbard is that the Chinese show a cavalier disregard for historical dates and facts. Plaques on famous buildings often cite dates that are two or three years off the mark and, as we walk through the famous Astor House Hotel, once known as the Waldorf Astoria of the Far East, Hibbard points at photographs on the walls of Albert Schweitzer, Charlie Chaplin and Cary Grant, "none of whom actually stayed here". They are just nice photographs of famous people, and it is left to the visitor to deduce why they are on the wall at Astor House.
I suppose, if your history dates back millennia, the difference between 1923 and 1925 is somewhat academic. Equally, I find myself cheered by this random appropriation of celebrity-guest endorsements in an age when some are so slavishly wed to whether or not Jedward or Cheryl Cole slept in the hotel room in which they are planning to stay. Hibbard, however, has more pertinent observations about Shanghai's history and Chinese attitudes towards it.
"Shanghai is ashamed of its past," he says. "It doesn't like things looking old. In the 1920s, this city was bulldozed and rebuilt in the modern style with modern manners to match. That was the art deco period." The same thing happened in the run-up to the World Expo, he adds, with a lot of buildings being rendered and refaced "so history doesn't breathe through".
Having said that, Hibbard then takes me on a four-hour walk along and around the Bund, which tells a rather different story. We pass No 2, formerly the Shanghai Club, that bastion of British colonial snobbery now being transformed into a Waldorf Astoria hotel; past Three on the Bund, originally built for the Union Insurance Society of Canton but now occupied by designer shops (Armani, Hugo Boss etc), a spa, an art gallery and a plethora of famous-name restaurants (Laris, the Whampoa Club, Jean-Georges); and No 5, formerly the headquarters of Japanese shipping line NKK but now a collection of spas and restaurants, the best known of the latter being M on the Bund.
The one we felt inclined to enter and linger inside was No 12, formerly the Hong Kong and Shanghai Bank Corporation (HSBC), designed by the architects Palmer & Turner, completed in 1923 and considered at the time to be the finest building east of Suez. The first Asian building with air conditioning, it was thankfully spared by its current owners, the Shanghai Pudong Development Bank, which chose not to raze it but to restore its interior.
In 1997, the British restoration architects DIA uncovered some fabulous mosaics on the ceiling of the grand banking hall. The mosaics depict Shanghai alongside the other world finance capitals of the time – London, New York and Tokyo – and are framed by magnificent marble pillars that make this a true temple of 20th-century capitalism. One building we could not enter was the soon-to-be-opened Fairmont Peace Hotel, formerly Sir Victor Sassoon's Cathay Hotel, which in its 1930s heyday was the art-deco symbol of Shanghai.
Charlie Chaplin really did stay there and Noël Coward did write Private Lives in the Cathay Suite. When I first visited Shanghai in the early days of Deng Xiaoping's "open door" policy, which allowed Westerners into China, my first stop was the Peace Hotel. Although the food was execrable and the octogenarian jazz band was seldom in tune or in time, there was a dilapidated magic about the place. Hibbard is the official historian of the Peace Hotel but, he says, "I don't think much of my advice was taken during the restoration."
We move swiftly on to what he calls "Shanghai's Piccadilly Circus": the intersection of Fuzhou Lu and Jiangxi Zhong Lu, where two matching 17-storey buildings created by Sir Victor Sassoon loom over the busy thoroughfare. While the Metropole Hotel and Hamilton House have wonderful stories behind them, Hibbard merely offers a taster before striding on beyond Hankou Lu to the Holy Trinity Cathedral. Built in 1869, it fell into disrepair and was scarcely recognisable as a church until five years ago when, according to Hibbard, its renaissance became "the most wonderful restoration story in modern China".
He leads me to a gravestone uncovered during the renovation work. Dated 1788, it is engraved with the name of one William Cathcart. Hibbard becomes animated as he unfolds the story: "At first, we couldn't work out what it was doing here – but then I figured it out. Cathcart was the first British ambassador to China, but he didn't actually make it. He died at sea on his way here, aged only 29, and was buried somewhere in Java." The headstone was found, brought to Shanghai and installed here in 1914. "This long-lost gravestone," Hibbard proclaims with wide-eyed enthusiasm, "was one of our first links with China."
Later, I meet up with friends and we race through the Shanghai night, drinking whisky at the Constellation bar in the French Quarter, having dinner at a wonderfully down-to-earth local restaurant called Butterfly Garden (featured dishes included "glutinous rice fill in ju jube, crab is special wing sauce and crispy furnip") and ending up at Yin Yang, described as "the common room for the city's chain-smoking creative set", where the smell of marijuana hangs heavy in the air.
This is my last night in Shanghai and, like all the other nights I have spent in this intoxicating city, it is a wild mix of visual, tactile, aural and olfactory sensations. For all the excitement, for all the Technicolor glee that Shanghai offers every visitor, I cannot help feeling a pang of sadness. Not for me, but for poor young William Cathcart, who didn't quite make it here.
Cleveland Collection (0845 450 5732, clevelandcollection.co.uk) arranges tailor-made holidays to China. A seven-night trip to Shanghai, comprising four nights' b&b at the PuLi plus three nights' b&b at The Peninsula, starts at £4,270 per person. The price includes direct flights from London with BA in business class, and airport transfers.
Stay
The Peninsula Shanghai opened its doors to great fanfare at the end of last year and has established itself as the epitome of corporate luxury on the Bund. Views of the Huangpu River and the space-age forest of skyscrapers in Pudong (above) are a major attraction. Rooms are large, well appointed and inspired by the city's art deco period. The beds are draped in Frette sheets and the marble bathrooms are large and high-tech – you can take a spa bath while watching television and talking on a hands-free phone. At the spa, I would recommend the two-hour "Bamboo Harmoniser" treatment at about £140.
No 32 the Bund, 32 Zhongshan Dong Yi Road (00 86 21 2327 2888, peninsula.com)
The PuLi is a cool new boutique hotel and spa in the JingAn district between Nanjing Road West and YanAn Middle Road. Its 209 rooms and 20 suites have free Wi-Fi, Bose music systems with MP3 docking stations, and flat-screen televisions. The lobby, with its 105ft-long bar, is smart; the signature restaurant, JingAn, is run by New Zealand chef Dane Clouston and serves Western dishes inspired by local seasonal produce, as well as Asian dishes.
1 ChangDe Road, JingAn District (00 86 21 3203 9999, thepuli.com)
Eat
If you are looking for first-class Western dining, Sir Elly's in The Peninsula (00 86 21 2327 6756) is excellent. Have a drink on the outside terrace, to enjoy the aforementioned views, then dine in regal splendour. The food is delightfully presented (try the wagyu beef with wood-grilled oxtail ravioli) but the portions are small and it is very expensive.
Better to venture beyond the Western hotel restaurants, to Lynn (00 86 21 6247 0101) at 99-1 Xikang Road, by Nanjing Xi Road. This is a long dining room that specialises in contemporary Shanghai cuisine and attracts a good mix of hip local business people and foreign visitors.
Even better is Din Tai Fung (00 86 21 6334 1008) at Unit 201, 168 Fangbang Zhong Road, in the old city – part of a famous Taiwanese chain that serves street food in bamboo steamers (above). This was the most surprising and brilliant food I ate in Shanghai, especially the xiaolongbao: the city's famous pork and crab dumplings, served in broth and pork juice, then dipped in vinegar. These were the best I have ever tasted.
Drink
There are cool bars all over Shanghai but I would recommend those in the French Concession area, with its lovely tree-lined streets and a whiff of divine decadence. To that end, Yin Yang (00 86 21 6466 4098) at 125 Nanchang Road, by Maoming Nan Road, is bohemia central – a wonderful, slightly louche bar where Chinese existentialists go to drink, smoke the odd joint and talk about life since Mao. More fashionable is Constellation (00 86 21 5404 0970) at 96 Xinle Road, near Xiangyang Bei Road, where bartenders are kitted out in bow ties and natty waistcoats. It has a vast selection of single malt whiskies and a fair offering of American rye and sour mash. Great atmosphere.