The last supper at El Bulli
With just three weeks to go before the world's greatest restaurant closes for ever, a table at El Bulli is harder to secure than tickets to the Olympics. But Graham Boynton got lucky – and got to rub shoulders with Penélope Cruz.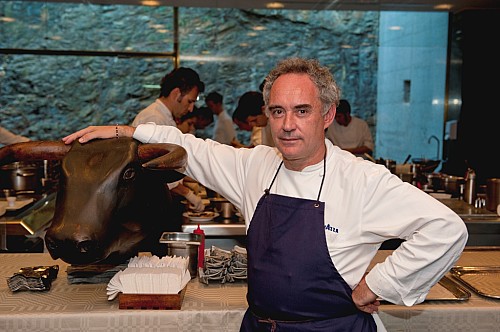 I have just finished my three welcome drinks at El Bulli. A caipirinha sugar cane, a mojito and apple baguette, and a gin fizz with spherical olives. I find myself laughing out loud, not because I have succumbed to the alcohol within – there are minuscule amounts in each "cocktail" – but because of the sheer lunatic creativity of the items I've consumed.
With the first you chew on the stick, extracting all the flavours of a mint-infused mojito as juice; the second is a slight, weightless wafery concoction shaped like a small baguette that you bite into to reveal the most intense appley flavour; and the third is hot foam and cold liquid in a mini martini glass served alongside a gelatinous, wobbly olive thing that explodes in the mouth releasing another unforgettable, intense taste.
Four courses down and 40 to go.
I have secured a table for two – my wife would have probably divorced me had I bagged only one seat – at Ferran Adrià's renowned restaurant beside a remote beach in a far part of the Costa Brava. As we are only weeks away from this 21st-century gastronomic temple closing its doors for ever, such an achievement is about as miraculous as the food Ferran and his staff of 70 serve up every night.
For every one of the 50 people dining tonight, 500 will have been turned away. In this final six-month season it is reported that two million people have tried to secure a place at El Bulli. So, amazingly, it's probably easier for an Englishman to get a ticket for the Olympics than it is to book a table before July 31.
The fuss, of course, is all about Ferran, widely regarded as the greatest chef alive. He is the man who has reinvented cooking, the successor to Escoffier, Bocuse and Robuchon who has transformed Spain into the epicentre of modern haute cuisine.
His restaurant has been voted the best in the world an unprecedented five times, and he features regularly on the covers of international magazines – Time named him as one of the 100 most important people in the world. Even if you are not a foodie, you're bound to have heard of Ferran Adrià and El Bulli. As one writer observed, he is, like Miles and Elvis, one of those people who is known by his Christian name alone.
Ferran came from a working-class background; he says that when young he was only interested in football and girls. He ended up at El Bulli in 1983 after a stint of cooking during his national service, by which time it had already been transformed from an unsuccessful golf course with beach restaurant attached, into a two-star Michelin establishment. By 1987 Ferran had become the sole executive chef and had had his Damascene moment when, at a demonstration at the Hotel Martinez in Cannes, the French chef Jacques Maximin had responded to the question ''what is creativity?'' with the words: "Creativity means not copying."
Ferran says it was this simple sentence that changed everything: not only a paradigm shift from Spanish-style nouvelle cuisine towards the deconstructed degustation menus of today, but a transformation in the functioning of the restaurant. First El Bulli stopped serving lunch, restricting itself to one dinner sitting a night for five days a week; then it closed for five, and then six months of the year. Even now, with a 180-day season, Ferran says the workload and the 15-hour days are draining for both himself and his 70 staff . You have to eat at El Bulli fully to appreciate what he means.
We are now halfway through the menu. The waiters, dressed head to toe in black, move in and out, fetching and carrying the tiny servings with the grace and drill of a ballet corps, all the time instructing you in stern tones how to eat each particular dish. And the dishes come fast and furious – pistachio ravioli with mimetic peanuts, Parmesan cheese 'macaron' with delicious breadstick; a gorgonzola balloon that is essentially a wafer-thin orb of ice cream that tastes of cheese; roses with ham wonton and melon water, the latter providing one of the most intriguing flavours of the meal so far; and in the middle of these complex servings, a folly called flowers paper, which is a sheet of candyfloss impregnated with roses, geraniums and pansies.
The waiters deliver their instructions in firm, matter-of-fact staccato bursts. For the pine ravioli we are advised to "dip them in the oil for two seconds, no more", the ham and ginger canapé must be eaten "within the next minute" and with the boiled shrimp I am told to "start at the tail, work your way to the head, then suck the brains out". So absorbing is the experience that my wife and I have no time for small talk.
To our left are two glamorous young couples, one French, the other Spanish; and to our right are two larger tables, one with two American couples and the other with a large Spanish party out celebrating a special occasion. The dress code ranges from T-shirt and designer jeans to couture dresses and glittering diamond accoutrements. Like us, the other diners appear to have little time for chit-chat, absorbed as we all are in the gastronomic rhythm of the El Bulli performance, pausing, tasting, reflecting, sometimes bursting into spontaneous laughter at the outrageousness of the whole thing.
The only time the spell is briefly broken is when the actresses Eva Longoria and Penélope Cruz arrive with a small group of friends. The partying Spaniards stare open-mouthed and even the cool couples to my left are unashamedly rubbernecking at the evening's most glamorous guests.
Soon enough, Ferran's wild, hallucinogenic creations recapture our collective attention and we are back on the rollercoaster – oyster and bone marrow tartar and then one of his most famous dishes, if you can call it a dish, Parmesan frozen air, which comes in a Styrofoam box into which you sprinkle a small sachet of muesli. It is worth the visit for this taste alone.
When our booking was confirmed some weeks earlier we'd received an email with the rather ominous title "Now is the Season of Mushrooms and Gizzards", inviting us to declare any food allergies and particular aversions. My wife, a more delicate soul than me, fired back an email saying no to anything containing brains, trotters, eyes, pancreases, livers, kidneys, beaks or sharks' fins. Thankfully, she did not add that she loved all vegetables, fruits and puddings.
As it turned out they accommodated our different tastes without a murmur. When I was served the shrimp whose brains I had to suck out, she was delivered a less challenging beetroot and yogurt meringue; and instead of oyster and bone marrow tartar, she was given a tomato tartar.
In fact, for all the hyperbole and the ferocious intellectual clamour that surrounds El Bulli, it is surprising to find how amiable, easy-going and accommodating Ferran and his staff are. And, having read about all the controversies and stern foodie psychobabble swirling about the place, I had also wondered whether we would be in for an evening of fine dining or whether we were merely gullible punters paying €275 (£248) a head to be guinea pigs in a madman's food laboratory.
Ferran's biographer, the American food writer Colman Andrews, says: "He has been called a charlatan, pretentious, an enemy of good sense and real food; he has been parodied, insulted, condemned for intellectual dishonesty and nutritional malfeasance. There's no effective way to answer such charges. You either buy what Ferran does, or you don't."
As I head towards the finish line more than three hours later, I pause for a few moments to reflect. Essentially what Ferran and his kitchen full of chefs and helpers (25 of the staff are unpaid stagiaires who regard themselves as lucky to be working in the great man's kitchen hour after hour) are doing is deconstructing familiar and in many cases traditional dishes then building them up again. In his encyclopaedic book, El Bulli 1994-97, Ferran sums it up thus: "Taking a dish that is well known and transforming all its ingredients, or part of them; then modifying the dish's texture, form and/or temperature. Deconstructed such a dish will preserve its essence… but its appearance will be radically different from the original."
Raymond Blanc, Michelin star chef and proprietor of Le Manoir aux Quat' Saisons, is an admirer, but admits he has reservations about Ferran's legacy: "Chemistry can give you the weaponry to be a better chef and to understand what's going on. But I worry about the effect they will have on up-and-coming young chefs. I don't like the prospect of young chefs coming along thinking that food is all about test tubes, Bunsen burners and liquid nitrogen. Gadgets should be used only to confirm what a chef's senses have already told him."
Our senses are taking a battering. We have been at the table for almost three-and-a-half hours when the final "dish" arrives. It is called simply Box and is just that, a wooden box with drawers much like a sewing box, but containing an astonishing array of chocolate confections.
Then we are led to a corner of the terrace that overlooks the beach at Cala Montjoi and sitting there is the man himself, Ferran Adrià. I had watched him directing operations in the kitchen before the performance began and he was on the balls of his feet, moving this way and that, his eyes darting from station to station, his small cloud of grey hair that could have been foamed on to his head by one of his own applicators, bobbing in the clear light.
Now he seems exhausted, as exhausted as we feel.
I tell him that I had spent the afternoon visiting Salvador Dali's home in Cadaques, in the cove next to Cala Montjoi, and it strikes me that the wild Catalan imagination so vividly expressed in the works of Dali, Miró and Gaudí, now had its equivalent in El Bulli. Suddenly, his eyes are alight.
"Of course, but when you talk about creativity, nationality takes second place. Picasso was a Spanish painter, Miró made Catalan paintings, Norman Foster made English architecture famous – but the most important thing about them all is their creativity, not their nationality."
Why then is he closing El Bulli? He draws a deep breath and explains that El Bulli has served its purpose. "I can see that you have enjoyed the experience. For the guest it is a performance, but for the staff it is very hard – 15 hours every day of concentration. The question is what can we do to improve the experience, to be more intense? And I don't think in a restaurant you can create a more intense experience than we have here."
The only way forward, he says, is to create a foundation, a culinary academy, on this site. He will close El Bulli for two years, completely reinvent the architecture of the place and then reopen some time in 2014 as the Bulli Foundation.
He hopes to attract charity organisations, academic institutions and schoolchildren, and plans to create "a completely sustainable architectural complex designed to produce zero emissions.
"The new format will be different because everyone who comes here will have to talk to me first, and they will be obliged to share their experiences on a daily basis on the internet. It will be very exciting. You are invited," he says with a wide grin.
As I stagger out into the warm Catalan night, it strikes me that Ferran Adrià's decision to end these gruelling performances and to practise his art in a more cerebral environment is not dissimilar in creative terms to the Beatles abandoning live shows and retreating to the recording studio.
With that they produced Sergeant Pepper, regarded by many as the best pop album ever. God alone knows what Ferran will cook up.