THE SOUTH
It is Friday night at around 9pm and suddenly Nashville`s Ryman Auditorium has lit up. The audience of 3,000 is on its feet rocking, singing and swaying. In minutes, even seconds, the whole building seems to have lifted from its foundations. I have been to the Ryman, the so-called Mother Church of Country Music, many times over the past 20 years and I have never seen anything like this.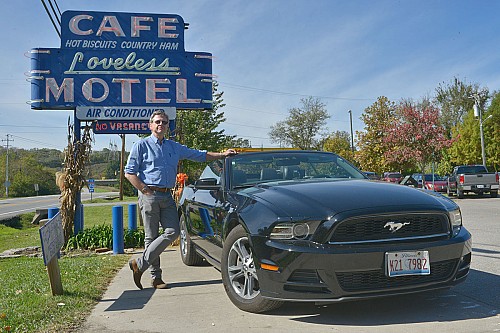 The reason for the audience hysteria is that country music`s biggest star Garth Brooks has made a surprise, spontaneous appearance at the end of the evening`s Grand Old Opry Show and what had been a reasonably sedate and unsurprising evening of traditional country music has turned into a riot of wildness and abandon. As he performs a barnstorming 40-minute set with his full band and country star wife Tricia Yearwood, the added treat is seeing septuagenarians who`ve arrived by the busload from the mid-Western states - now formally known as Trump Country - casting off their walking sticks and joining the teenagers and college kids in shouting, screaming and singing along with one of modern country music`s most celebrated sons.
The Grand Old Opry is the longest-running live radio show in US broadcast history and it has been spreading the gospel of country music across the nation since 1925. According to my Nashville friends there have been many other wild nights at the Opry but by any standards this one is pretty special. For me it`s an exhilarating start to a musical road trip through the South.
As much as country music today has moved on from the sound of Hank Williams, Johnnie Cash, or George Jones, the constantlyreferred to historic figureheads of the genre, so Nashville and the South is no longer the backward, redneck, fried-food guzzling netherworld that sophisticates from the eastern, seaboard, the West Coast and most of Europe have long derided as a cultural and gastronomic wasteland. Nashville itself is now one of the US`s most desirable cities and is the home of stars who could live anywhere such as Nicole Kidman, Jack White and Ed Sheeren. Added to which southern neighbours Memphis, New Orleans and Muscle Shoals are becoming tourist attractions as much for hospitality and cuisine as they are for their musical heritage.
Nashville itself has seen tourism grow exponentially over the past few years and last year was anointed Destination of the Year by Travel & Leisure magazine while several other glossy monthlies have named the city one of America`s top 10 foodie destinations. I spend several days here before heading west to Clarksdale, and Memphis, and finally south to Muscle Shoals in Alabama. The city has moved on a great deal since I was last here; the same Southern generosity, charm and warmth is still evident but there`s now a swagger of self-confidence about the city. Nashville wears it well.
One significant change is the emergence of new wave chefs. Josh Habiger is one of the innovators having been involved as culinary director in the opening of Patterson House, Catbird Seat, Pinewood and now Bastion, all high-trend millennial gathering places that serve great food, great, exotically titled, cocktails (Tragedy of Fools, Get Behind The Mule, Psychic Detective), and a contemporary buzz. The new wave of Nashville cuisine."Our places are all about experience," Habiger says. "It`s food and drink but much, much more. They`re places to hang out. People at the bars with laptops. Pinewood has a bowling alley."
Like many of the nouvelle Nashville chefs I speak to, Habiger says there remains a strong tie with traditional southern food here - collard greens, fried ochre and fried green tomatoes - and he recommends Arnold`s Country Kitchen, a 35-year-old Nashville institution that is famous for its "meat and three." That`s a serving of lovingly-cooked fried chicken, roast beef or cured ham with three vegetables, and remember in the South macaroni cheese is regarded as a vegetable. Arnold`s is like a large working man`s canteen, only here blue collar workers stand in line with lawyers, accountants and downtown executives to collect their lunch which they eat at plain Formica tables set on a grey concrete floor. There is no waitress service and Arnold`s is only open for lunch.
For all the smart cuisine and New Nashville innovations, this remains the world capital of country music and on any one night in the city you`re likely to catch anyone from Emmylou Harris, Vince Gill or, let`s face it, Garth Brooks, playing at any one of the city`s major venues. Or, if you don`t mind taking a chance, you can always slip in and out of the side-by-side honky tonks on Lower Broadway and listen to some of the hundreds of barely known musicians who play there for tips. You`ll be hard pressed to find so many top class bands and musicians in one place anywhere else on earth.
The next stop on the road trip is Clarksdale, some six hours south-west of Nashville. This is both the birthplace of the blues - Robert Johnson reputedly sold his soul to the devil on the edge of town - and the setting for many of Tennessee Williams` plays. In the 1920s it was known as the golden buckle on the cotton belt, but today is a modest, run-to-seed city of 17,000 that relies on blues tourists, mostly Europeans and Australians, for a living. I spend an evening at the main blues club, Ground Zero, with Bubba O`Keefe and Bill Luckett, the two driving forces behind Clarksdale`s modest revival.
Luckett is the city`s mayor and, with the actor Morgan Freeman, owns Ground Zero. In between glad-handing his patrons and handing out his business cards, he tells me that several magazines have recently rated Clarksdale one of the most interesting cities in the US and one, the magazine for customers of Geico the insurance company "has placed us in the top ten. There are 19,000 cities in the US so to be in the Top Ten puts us in the .0005 percentile." In reality the half-empty Ground Zero and the eerily vacant downtown streets suggest that both Bill and Bubba have a lot of work to do. Maybe it`s just a slow weekend. They claim that at next year`s Juke Joint Festival in April, Clarksdale will see visitors from 28 foreign countries and some 47 US states descend on the city for a weekend of blues. I hope they`re right but it`s hard to imagine.
Early Sunday morning and I`m driving north along Highway 61, Blues Highway, the route taken by the Mississippi cotton workers who lost their jobs to mechanisation after World War II. They were headed, as I am, for Memphis, just 76 miles north of Clarksdale, and I pass through endless flat fields once populated by black cotton pickers and now attended by enormous single-row cotton-picking machines operated via satellites. This is the heart of the Mississippi Delta, the vast floodplain that is synonymous with Southern poverty and hardship and at the same time central to American music mythology. This is where blues and jazz was born and - thanks to that mechanisation - it was from here it migrated north, first to Memphis, then to Chicago, Detroit and New York, and across the planet.
When you arrive in Memphis on a Sunday morning there`s only one place to go. That`s Al Green`s Full Gospel Tabernacle Church, set in a leafy South Memphis suburb not far from Graceland. The former soul singer`s two-hour services are moving for Christians and atheists alike for the sheer exuberance and celebratory high that comes out of his firebrand preaching, the choir`s soulful singing, the electric band`s intricate riffing, and the commitment of the swaying, wailing parishioners. This is more than enough to cleanse the soul, and I leave Al Green`s Church floating on air.
In contrast to Clarksdale, Memphis is jumping. The Beale Street clubs are jammed with tourists, the restaurants are full and the music history attractions - Sun Studios, Stax Museum of American Soul Music, the Civil Rights Museum (located at the Lorraine Motel where Martin Luther King was assassinated in 1968), and, most of all, Graceland - see busloads of visitors coming and going. The big surprise, however, is the quality of the restaurants in Memphis. While perhaps not as cosmopolitan as those in Nashville they are certainly offering local specialities with some pizazz. At Itta Bena, above BB King`s Beale Street nightclub, I have shrimp and grits I`ll remember for a long time and at Central BBQ, just beside the Civil Rights Museum, I have the best ribs I have ever eaten - smoked and cured to perfection so the meat really does fall off the bone. Great southern cuisine and not a fried anything in sight.
And the live music, particularly in the clubs up and down Beale Street, is outstanding. Over just two nights I watch blues, soul and rockabilly bands that are as good as any in the country. As Tad Pierson, the city`s most experienced guide, and whose clients have included Elvis Costello and the late Wilson Pickett, says "in the black world the blues clubs on a Saturday night and church on a Sunday morning have always been closely related because both are cathartic. It was, and is, pure joy for people with difficult lives." Amen to that.
With Memphis and Jesus fully explored it is time to take to the road again, this time along Highway 72 into Alabama, for a couple of nights at one of the friendliest, most accessible musical history outposts in the US. Previously rather forgotten in popular music folklore, Muscle Shoals was catapulted to public attention by a 2013 Grammy Award-nominated documentary that rightly proclaimed this collection of four small villages - Tuscumbia, Sheffield, Muscle Shoals and Florence - as one of the critical birthplaces of rock and soul music. That Johnny Depp`s production company has announced plans for a television series based on the documentary has only added to Muscle Shoals celebrity. Suffice it to say that both WC Handy, the father of the blues, and Sam Phillips, creator of Sun Records and some say the father of rock`n`roll, came from Muscle Shoals, so it has all the musical history credibility it needs.
These days recording studios that were once the engine rooms of the Muscle Shoals sound - Fame on Avalon Avenue and Muscle Shoals Sound Studio at 3614 Jackson Highway (where the Rolling Stones famously recorded Brown Sugar and Wild Horses) are more tourist destinations even though they do still record there. It costs you $10 a head to visit Fame, so you have a look around the hallowed studio, buy a t-shirt and a CD, and, if you`re lucky, bump into Rick Hall, the driven producer who invented the sound and who is now well into his Eighties. Newer studios such as Jimmy Nutt`s NuttHouse and Tonya Holly`s Cypress Moon Studios are very active working studios but also encourage visitors, and are well worth a visit.
I leave the Shoals early on an autumn morning and meander north along the Natcheez Trace Parkway, a perfect two lane blacktop that winds through forests of maple and hickory and oak, surely the South`s most scenic drive. Two hours away is Nashville and the plane home, so I dawdle. I really want to stay longer and have no desire to return home. I`m seduced by the South, always have been, and I`m already plotting my next trip down here. The South is much more than the music, the food, the hospitality, the lazy drawling accents, the redneck inappropriateness. The South is, as The Book Of Southern Wisdom so appropriately observes, "much more than a region, it is a state of mind."