WHAT IT`S LIKE TO FLY ONBOARD BA`S BUSINESS CLASS-ONLY PLANE
British Airways (BA) last month celebrated the sixth anniversary of its business class-only service between London and New York. That may appear to be a rather underwhelming landmark but the success of the twice-daily luxury service is reward for some bold strategic thinking by BA during a time when the global financial crisis was battering the travel industry.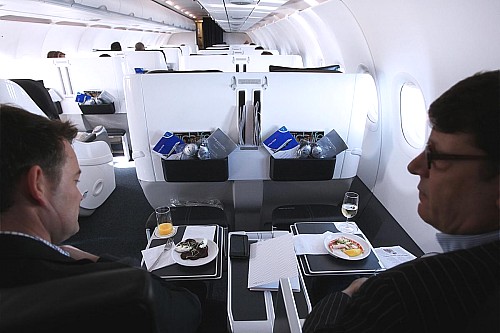 BA launched the service, which boasts the old Concorde flight numbers BA 001, 002, 003 and 004, from London City Airport in 2009, by which time three other significant business class-only airlines operating between London and New York had all gone out of business. The world's stock markets, banks and financial institutions were in a parlous state. The last thing most travellers were thinking about at the time was spending big to fly in luxury. BA`s then-CEO Willie Walsh, however, was convinced there was a market for high-end commercial flights between London and New York as both the U.S. and Europe were just starting to show the first signs of an economic recovery. It proved to be a rather smart gamble.
The launch in May of La Compagnie, a Paris-based company that offers business classonly flights to Newark Liberty International Airport in New Jersey from Paris Orly Airport and Luton Airport, which is just outside London, suggests that the market for these high-end flights is growing. La Compagnie is offering return flights this winter for between 935 pounds and 1,405 pounds for a conditional, restricted ticket and 2,900 pounds for a fully flexible ticket, compared with around 2,770 pounds for the unrestricted BA London City service. To some extent, you get what you pay for with both companies. La Compagnie flies Boeing 757s with 72 seats while BA`s city service uses Airbus A318s with 32 seats per flight, so there is a real sense of private jet travel with BA.
The first BA flight of the day stops for an hour at Shannon Airport in Ireland, where passengers clear U.S. immigration, thus landing at New York's John F. Kennedy International Airport with the ease enjoyed by domestic passengers. Anyone who has stood in those long immigration lines in New York will recognize the advantages of this arrangement even though the total flight time is an hour longer than the conventional Heathrow-to-New York journey.
How good is the BA business class-only service? Courtesy of BA, I flew on BA 001 and 002 this August for the first time in five years. Although London City Airport is a far more crowded airport than it was five years ago, passengers on these flights are rescued from the mayhem by the serenity of the BA lounge. Once you`ve passed through those doors, you're aware that you`re crossing the Atlantic in something akin to private aviation. On this flight, there were just 24 passengers-summer is low season for business travel-and when the flight was called 15 minutes before takeoff there was an amiable saunter to the gate rather than the usual tense rush.
The cabin crew served Taittinger Champagne and hors d`oeuvres on the short hop to Ireland, where we cleared American customs in short order and left for the U.S. exactly an hour after landing. The lie-flat sleeper seats are arranged side by side in eight rows, unlike BA`s conventional Club class arrangements (face to face), and there is more space and privacy than you find on conventional flights, except perhaps in first class. Passengers enjoyed a leisurely lunch with good wine choices-and then relaxed for the next seven hours.
For mere mortals with little chance of ever taking a private jet, this was pretty much as good as trans-Atlantic travel gets. It may even be commercially strong enough to survive whatever financial turbulence lies ahead for the travel industry.