WHERE THE WILD THINGS STILL ARE: NOW IS THE TIME TO VISIT ZIMBABWE
For a brief moment this past summer, the world's attention was focused on Zimbabwe. This was not a result of human rights abuses perpetrated by President Robert Mugabe`s security forces, nor the country's full-blown economic collapse-but because a Minnesota dentist named shot dead a well-known lion named Cecil.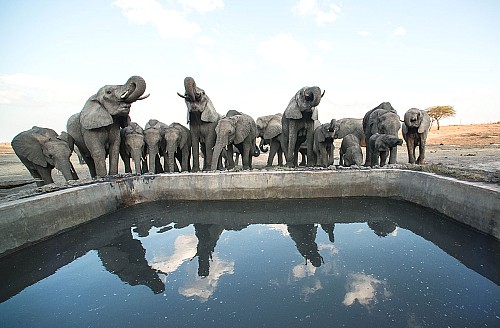 The hunting of Cecil in early July led to a storm of outrage and raised awareness of Africa`s endangered wildlife. The mainly Western mourners of Cecil, however, were largely unaware that the lion population in Hwange, the country's main wildlife reserve, is thriving and that habitat loss is a far bigger threat to wild animals than American hunters. The African conservation community also saw it as somewhat ironic that a lion attack that killed the Hwange wildlife guide Quinn Swales soon after Cecil's demise passed without much notice.A few weeks after both Cecil and Swales died violently in Hwange, I joined a small party of tourists on safari in Zimbabwe to see the territory where this drama was playing out. I spent some time in two of the country's best national parks-Hwange and Gonarezhou-and also visited some of the other stunning natural attractions, most notably Victoria Falls and the Matopos, the rock-strewn outcrop where Cecil Rhodes, one of the key builders of the British Empire in the Victorian era, is buried. European tourism to Zimbabwe was once one of the country's main sources of revenue, but since mobs backed by Mugabe began seizing predominantly white-owned farms in 2000 and bellicose anti-white rhetoric grew in intensity in the country's political discourse, many Europeansespecially the Britishcrossed off Zimbabwe as a tourist destination.
Now they are starting to go back to the country, mainly because despite its confrontational government`s anti-Western ranting, Zimbabwe is a peaceful and friendly country to visit and the message has been getting out. Also, later this year the new Chinese-built Victoria Falls Airport is due to open, and this is expected to be a boon not only for Zimbabwe tourism but for wildlife holidays throughout this region. The Zimbabweans are hoping that the new airport will become an aviation hub for tourists who will disperse from there not only to Zimbabwe`s wilderness areas but also to neighbouring Botswana, Zambia, Namibia and even South Africa.
On this trip we spent our first two nights in Victoria Falls, staying at the 100-year-old Victoria Falls Hotel, which oozes colonial history and is just a short walk from the mighty falls. From the balcony of the Victoria Falls hotel you can sip gin and tonic, watch the African sun go down, hear the thunder of the falls and gaze in wonder at the massive clouds of spray, all of which inspired David Livingstone to utter those much-quoted words: "A scene so lovely must have been gazed upon by angels in their flight."
Hwange is a couple of hours by road from Victoria Falls; an early-morning drive had us installed in camp before lunchtime. Hwange boasts more than 100 mammal species and 400 bird types, and more than 450 lions are in the park, one of the most successful populations of any African national park. There are also massive herds of elephant and buffalo and a variety of ungulatessable, roan, eland, kudu. As a result, predators such as lions, leopards, cheetahs and wild dogs have flourished. And although the killing of Cecil had some impact on the lion prides in terms of territorial occupation there was not the wholesale infanticide that often follows the death of a powerful pride male. Jericho, Cecil's coalition partner, seemed to be holding on to the territory the pair had ruled over, and Cecil`s sons, Xanda and Sixangani, appeared to be taking over a neighboring territory. We saw several prides during our four days in Hwange but were never able to track down those principal males. But we did hear them calling at night, their rich, resonant roars carrying for miles across the African bushveldt.
What we did encounter, in their hundreds, was elephants, with massive herds swirling around the camps we stayed in. At dusk and dawn, parades of giant pachyderms went to and from the waterholes near those camps. Here the elephants seem habituated to visiting tourists and appeared unconcerned by our presence. By contrast, on the last four days of this Zimbabwe safari we encountered real wild elephants in Gonarezhou National Park in the country`s southeastern Lowveldt. This is a region of spectacular 2,000-year-old baobab trees, scrublands and dramatic sandstone cliffs, a remote area that has never had many tourists, mainly because it is so remote and inaccessible. We stayed at Chilo Gorge Safari Lodge, owned by Clive Stockil, one of Zimbabwe`s most celebrated wildlife conservationists and recipient two years ago of the Prince William Conservation Award in recognition of his pioneering work engaging local rural communities in wilderness protection.
Every time we closed in on a group of elephants in Gonarezhou, we were reminded by Stockil and his guides to stay still, speak in whispers and be aware that we were encroaching on their space. It was a fitting reminder of what Africa must have been like before Homo sapiens overran the wild places. There are few truly remote parts of Africa, such as Gonarezhou, that are left to explore, but it is reassuring to know that, for the time being at least, here in Zimbabwe there is some true wilderness left.
Graham Boynton traveled to Zimbabwe with the Ultimate Travel Company. A 10-day safari taking in Hwange, the Matopos and Gonarezhou starts at 9,000 pounds ($13,870) , including international flights.